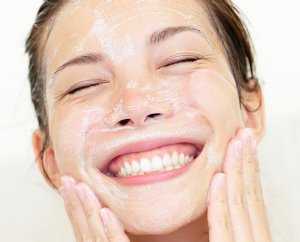 Skin Types: What type of skin do you have?
Natural, beautiful skin is not just a miracle, it's the result of the right kind of care. Nourishment and cleansing products tailored to your individual skin type help your skin shine in all situations. Here, you will learn what type of skin you have and which natural and organic skin care products are suitable for your skin type
The characteristics of different skin types may vary and can change over the course of a lifetime. Hormonal fluctuations, nutrition, your age, environmental influences and other external factors contribute to the condition of your skin. You should therefore always use complementary products when caring for and cleaning your facial skin.
Skin types and their needs
Choose the correct skin care and cleansing products appropriate for your skin type.
Normal Skin
Characteristics - Smooth, soft even texture, fine pores, good circulation, fresh complexion, no impurities, does not tend to be sensitive
Needs - Light care, moisture >
Dry Skin
Characteristics - Dull, rough complexion, less elasticity, almost invisible pores, fine lines start to appear
Needs - Intense moisture, abundant care
Combination Skin
Characteristics - Oily forehead, nose, chin (T-zone), enlarged pores, some impurities, normal to dry skin on the cheeks
Needs - Mattifying, sebum reduction, moisture >
Oily Skin
Characteristics - Skin impurities, pimples, blackheads, acne
Needs - Moisture, deep cleansing, removal of pimples and blackheads, skin soothing, relief >
Sensitive Skin
Characteristics - Delicate skin, skin feeling tight, rough to touch, sometimes feeling hot, red and itchy
Needs - Prevent the skin from drying out, support natural regeneration of the skin's protective barrier >
Mature Skin
Characteristics - Decreasing resilience and firmness, lack of elasticity, dryness
Needs - Special support, regenerating and comprehensive care, rehydrating properties >